Cigna is more than just a health insurance company. We are dedicated to helping people improve their health, well-being and sense of security. We make this happen through a broad range of medical plans and integrated health care and well-being programs.
Coach by Cigna mobile app is one of the well-being programs we specially designed for you to help you live a healthier and sustainable lifestyle.
Psychological research suggests that personality can influence people's health and their lifestyle focus. This is why Coach by Cigna offers a quick quiz to identify your personality type, needs and preferences, and gets you focused on what matters most to you in five lifestyle areas: Exercise, Food, Sleep, Stress and Weight.
Coach by Cigna then puts the right well-being programs in the palm of your hand, featuring instructional videos tailored by health coaches and tools that help you personalize your health goals, track progress and stay motivated for achieving better health and sense of well-being.
Download the Coach by Cigna FREE app today.
Compatible with Android OS 4.4 and higher and iOS 8.0 and higher devices.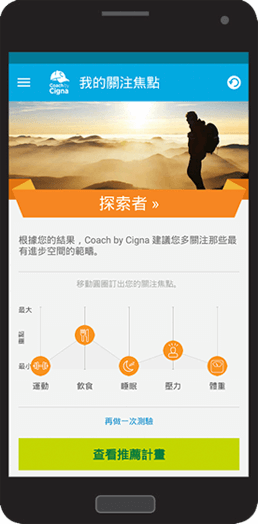 It's not just about health; it's about who you are.